Memorial Day is Monday, May 27. While you're out relaxing at the pool or enjoying a summer barbecue, take a moment to reflect on the real reason for the holiday.
Memorial Day is a day to remember the men and women who made the ultimate sacrifice fighting for our country. Declared a national holiday by President Lyndon Johnson in May 1966, our national day of remembrance traces back to the Civil War, when women decorated the graves of Union and Confederate soldiers.
Here are a few simple ways to honor the fallen this Memorial Day weekend.
Watch the Memorial Day Concert
Hosted live from the West Lawn of the U.S. Capitol, the National Memorial Day Concert is a star-studded event to honor military men and women who died while serving. This year's concert airs from 8-9:30 p.m. EST Sunday, May 26, on PBS.
The lineup features Gen. Colin Powell and actor Sam Elliot, as well as performers including Patti LaBelle, Gavin DeGraw, Alison Krauss, Justin Moore and the National Symphony Orchestra. You'll also hear from the U.S. Army Herald Trumpets, the U.S. Army Chorus and Army Voices, the U.S. Navy Band Sea Chanters and more.
Attend A Memorial Day Parade
Many communities have parades or tributes to honor soldiers who have died in the line of duty. Check your local newspaper to find a parade or ceremony near you.
If you have kids, this is a good way to introduce them to the importance of honoring military service. Don't forget to thank the veterans and active-duty military members you see while you're there. You can even bring ribbons or DIY flag pins to give away.
Decorate With Memorial Day Flowers
Having guests over for a barbecue later? Decorating your home with red, white and blue flowers for Memorial Day will remind everyone of the reason for the holiday.
White Phalaenopsis orchids add a touch of elegance. Blue watercolor orchids have been dyed for an artistic touch, making them ideal for an arrangement of Memorial Day flowers.
And bright red anthurium plants add a bold pop of patriotic color. Their heart-shaped leaves also symbolize the sacrificial love of those who have served our country.
To make your Memorial Day flowers even more patriotic, you can even replace your orchid stakes with American flags. These long-lasting plants will stay in bloom for several months with proper care, and they can even rebloom later.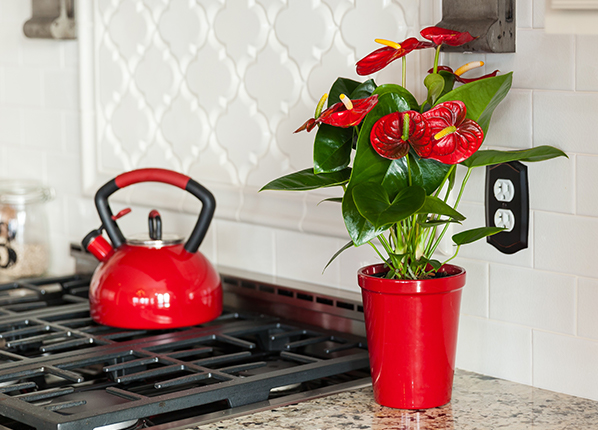 Make Dessert For a Military Family
Know someone who has lost a loved one serving in the military or who has a family member serving now? Show them you're thinking of them by bringing them dessert. It could be tarts topped with fresh strawberries or blueberries, red velvet cupcakes, or whatever you like!
Here are some delicious Memorial Day dessert recipes to try.
Observe a Moment of Silence
At 3 p.m. on Monday, May 27, you can join millions of Americans in a National Moment of Remembrance.
Turn away from the grill, lay down your garden spade, gather your family together and pause for a moment of silence to remember and honor America's fallen heroes and thank those who continue to serve.