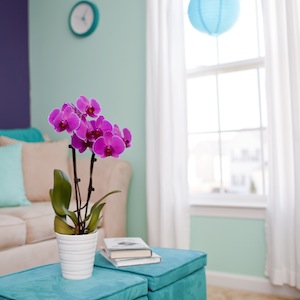 Unless you live in a tropical environment with year-round sun and blue skies, you'll probably experience the muted grays of winter. But just because its drab outside your window doesn't mean that you can't create a world of color indoors. Here are four ways that orchids can help you to keep the gray of winter where it belongs: outside.
Orchids have a versatile color palette that allow you to brighten every room in your home with a different color.
Windowsills
Looking outside on a cloudy, chilly winter day first thing in the morning isn't very inviting, but what if you framed your windowsill with a stunning two toned orchid or two? A white and pink orchid is an ideal flower to place on your windowsill. White is the perfect homage to winter because it's reminiscent of snow; the bright pink accents give this plant a dramatic flair that you can't ignore. If you place your orchid near a window, remember to protect it from harsh, cold winter drafts.
Living Rooms
Your living room is the center of your home; it's a place to relax and unwind. This is the perfect room to showcase color that's both bold and beautiful. Place your orchids on your coffee table for an elegant centerpiece. For color that really pops, pick an orchid hue that contrasts with your color scheme.
Kitchens
Does your kitchen or dining room table look a little bare? Simply placing an orchid or two on your table can help to spruce up your decor. See, spices are not the only way to add some flavor in the kitchen! Since you're already in the kitchen, why not make yourself a steaming cup of orchid tea?
Small Spaces
Want to add some pizzaz to your bathroom? How about injecting some color into your office at work? From leopard colored spots to pink and salmon watercolor swirls, an orchid's exotic colors can add a bit of color to any room you choose.
The grays of winter may linger for the next few months, but you can fill your home and office with the colors of spring and summer with orchids. Want more helpful tips on decorating and caring for orchid? Subscribe to our blog and stay in the loop.