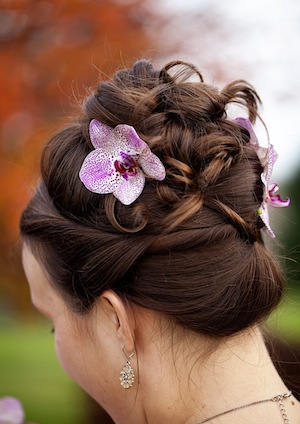 The winter season is not known for blooms. The chill is biting, the trees are bare, and many of us, especially on the East Coast, flee indoors to the refuge of indoor heating. But if you're planning a winter wedding, orchids can infuse your ceremony with an exotic, island feel.
Here are four ways that you can use orchids to give your winter celebration a warm, tropical look.
1) Wedding Bouquet: Warm colors, like deep purple, salmon and yellow, can evoke a feeling of warmth; this makes sense since we associate these colors with heat and fire. If these fiery hues are part of your wedding color scheme, you should consider incorporating these tones into your bouquet, in addition to your overall decor, to give your guests a warm and cozy feeling. If these colors fall outside of your theme, a new trend encourages brides to build their bouquet from a mixture of colors that compliment and contrast their wedding colors.
2) Wedding Cake: For a wedding cake that is as stunning as it is sweet, consider forgoing traditional fondant roses for orchids. Phalaenopsis orchids have a more complex structure than roses, and a skilled baker can create the illusion of these lush flowers spilling over the side of a wedding cake for a delectably dramatic confection.
3) Hair Decoration: Orchids add a touch of elegance to any event, and they can also add some wedding flair to a bride's hair. Adorning one's hair with orchid flowers is a fresh and modern departure from the traditional ceremonial veil. The bride is not the only one who can have fun with flowers on this special day. A tiara made of orchids is an adorable accessory for the flower girl.
4) The Long-Lasting Anniversary Gift: This suggestion is for the wedding guests. Want to give the couple a gift that will forever remind them of their special day? An orchid is the gift that keeps on giving, year after year. With minimal care, this plant will brighten any room with each bloom. And for any brides-to-be who are reading this post, orchids also make great party favors for your guests.
Orchids can add an unexpected element of warmth and elegance to give your winter wedding a one-of-a-kind experience that your guests will never forget. Discover how you can incorporate the elegance of orchids into your wedding today!