There's no better time than a new season to spruce up your home décor — and there's no better way to do it than by incorporating Phalaenopsis orchids. These versatile, beautiful and exotic-looking plants offer the perfect solution for making your home feel fresh and bright after the long winter months.
Here are a few tips and ideas for how to incorporate Phalaenopsis orchids into your spring décor.
Use Phalaenopsis Orchids to Accentuate Bold Colors
If your living area is feeling a little drab these days, pick a bold color and liven things up with a few new throw pillows, a cute wall hanging, an accent rug or a brightly colored orchid. See how nicely these Phalaenopsis orchids pop against their colorful surroundings?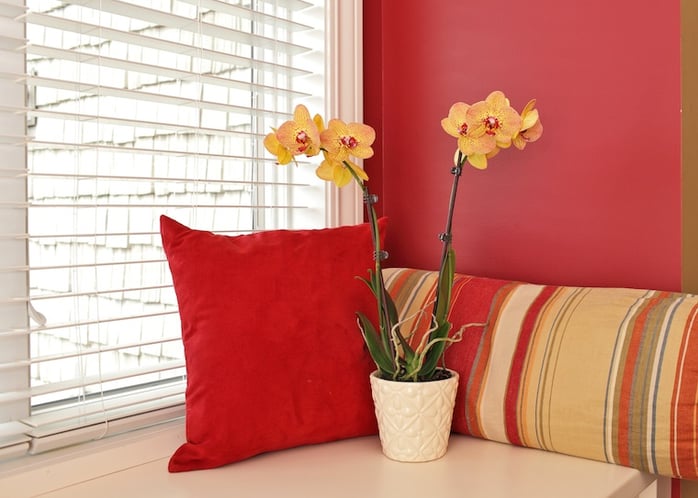 Use Creative Orchid Pots
There's no hard and fast rule that your orchid needs to grow in an actual pot. In fact, if you find a vessel that can fit enough potting material, you can get as creative as you want. For instance, check out how intriguing this orchid looks in this large seashell!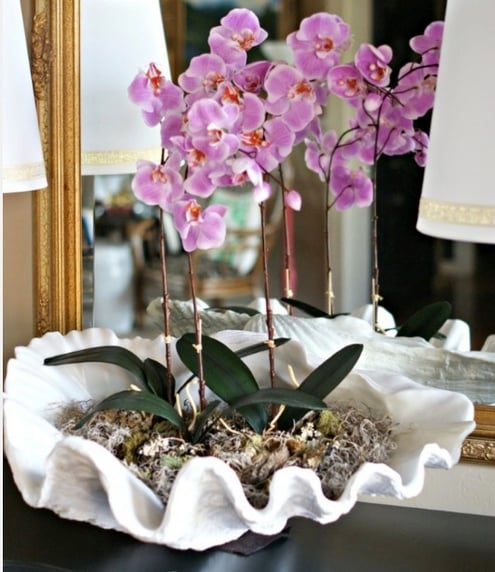 When it comes to springtime ideas, the possibilities are truly endless. Mix and match materials and colors in your home - consider a galvanized bucket or even a brightly colored bowl.
Consider Placement of Phalaenopsis Orchids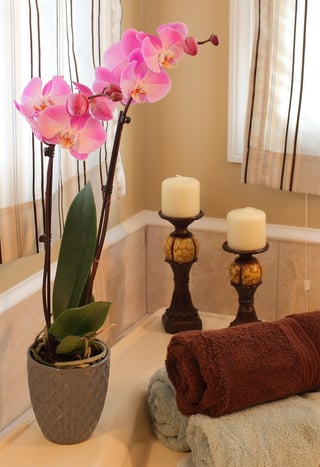 Are there areas of your home where you don't typically spend the time to adjust the décor each season? Does the idea of transforming every room of your home to match the passing of the seasons seem a little intimidating? Luckily, orchids are so naturally beautiful that you can add them to a seemingly spring-less room and give it an instantly brighter feel.
Take the bathroom, for instance. By simply adding an orchid to your bathroom décor, you can capture the newness and rebirth of spring without having to make dramatic changes. Plus, as a bonus, the humidity of your bathroom is likely great for your plant — just make sure there's enough indirect natural light.
Create an Eye-Catching Orchid Centerpiece
By situating your orchid on a pretty tray or in a basket with complementary items, you can create a simple, eye-catching centerpiece that ties the entire room together. Just look how nicely this gorgeous white orchid goes with this springtime teacup set.
Get Clever with Cork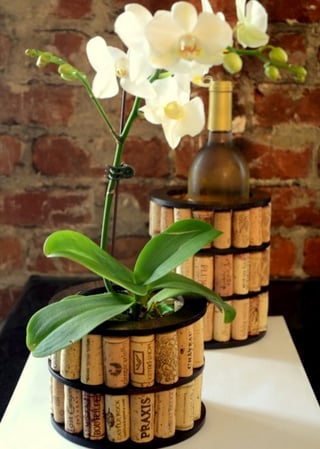 Incorporating cork into design is a trend that only seems to be gaining steam.
The subtle, natural look of the cork pairs well with other natural elements — like plants! — and can add a rustic element to any space.
While you can certainly buy cork accessories at your local craft store, why not use something you may already have for an "upcycled" craft?
This DIY wine bottle cork vase can give your orchid a facelift and make your beautiful plant a focal point in your spring décor.
Learn how to make your own here.
More Ideas for Phalaenopsis Orchid Decor
Still need some inspiration? Hop over to our Spring Lookbook for color trends, DIY ideas and much more!