Are you bored with the same Thanksgiving menu every year? Why not get a taste of what everyone else in the country is enjoying and feeling grateful for?
We break down the unique meals different regions in the United States hold near and dear to their hearts below. Give them a try!
The South
There's no better way to appreciate the flavors of the deep south than with some cornbread and fresh fruit.
Louisiana Cornbread Stuffing, also known as Cajun Cornbread Stuffing, makes a small tweak to traditional stuffing that comes with an epic flavor profile. Instead of regular bread, the cornbread gives the stuffing a heartier flavor with all the grit from southern corn. Get the recipe here.
Georgia Peach Dump Cake is the perfect celebratory dessert from no better place than the Peach State itself! If you need a refreshing dessert after a big Thanksgiving meal, this delicious treat is the way to go. Fresh peaches mixed with spices and cake? You'll finish the whole thing.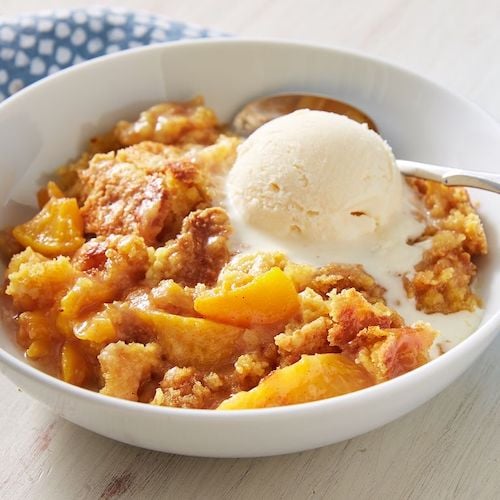 (photo from delish)
The West
The west coast brings fun takes on traditional dishes like stuffing and apple pie and they sound fantastic!
Hawaii Sausage Stuffing is crispy on the outside, but still soft and gooey on the inside. Throw in some pineapple if you really want to feel like you're on the island!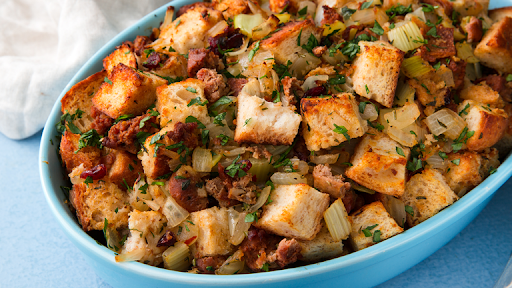 (photo from delish)
New Mexico apple pie empanadas are a great mix of southwest Hispanic heritage and a classic American staple. Unlike traditional pie, you'll be eating these flavorful treats with your hands! Get the recipe here.
The North
Up in the northern part of the country, you'll find simple, downhome recipes like Minnesota Green Bean Casserole. It is a Thanksgiving addition to what Minnesotans already love — casseroles! The best part is you can add any flavor or throw-ins you like!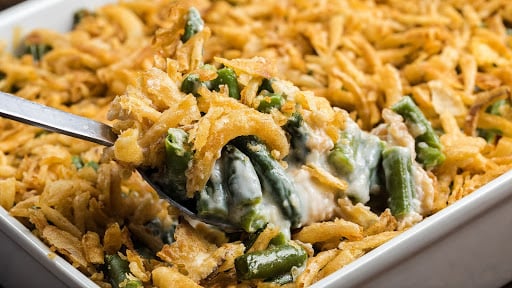 (photo from McCormick)
North Dakota Apple Crisp gets right down to business. It's crispy, full of fresh apple flavor, and served warm. Exactly what someone needs when they're braving the cold winters in North Dakota! Get the recipe here.
The East
The east coast is serious about their holiday dishes. Just ask Maryland and Delaware!
Everyone knows that Maryland is famous for its crab, and these Maryland Crab Cake Bites don't disappoint.
These flavorful seafood bites are the perfect appetizer before the big turkey.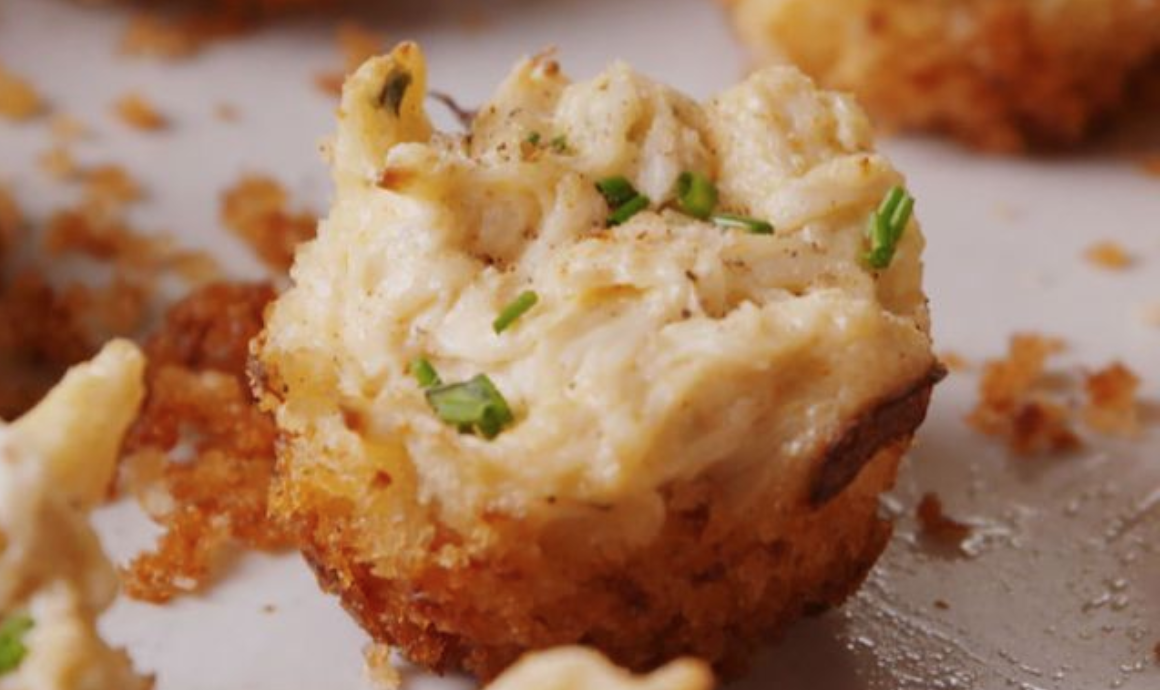 (photo from delish)
Delaware sweet potato casserole doubles as a side dish and a dessert. Just add marshmallows if you crave the ultimate sweetness. Get the recipe here.
The Midwest
If you've ever driven through the Midwest, you've surely noticed the endless cornfields. That's exactly why you'll find it in these Thanksgiving dishes:
Indiana corn pudding is crispy on the outside and gooey on the inside. It makes a hearty side to any turkey. Get the recipe here.
(photo from delish)
Football is big in Ohio, and Ohio Corn Dip is a great game-day and Turkey Day snack. Munch on it with chips, veggies, you name it!
If you're ready to take a new dish to your annual Thanksgiving feast, why not also bring a premium orchid? Your dish and the gift of a beautiful orchid will be appreciated and remembered for years to come! Purchase your premium orchid here.