Hosting a big Thanksgiving feast can feel overwhelming. But with a little planning ahead of time, you can make yours memorable (and make it a lot easier on yourself.)
If you don't know where to start, or just need a refreshing new spin on hosting Thanksgiving dinner, we've got you covered.
Create and Send Unique Invites
Is it your first time hosting Thanksgiving dinner? Great! Start a new tradition for family and friends by mailing out invitations and putting your official stamp on hosting duties.
Or, if you're a seasoned professional when it comes to having everyone over for turkey, you can spice things up and give your guests a new reason to be excited to come over, with fun invitations!
Here are some quick tips for Thanksgiving dinner invitations:
Design with warm, fall colors, illustrations of leaves, or if you're having a more formal affair— add gold trim.
Include a sneak peek to some delicious items on the dinner menu (but don't reveal everything.)
Share what guests can expect in terms of activities— this will make parents feel more comfortable bringing their young children over.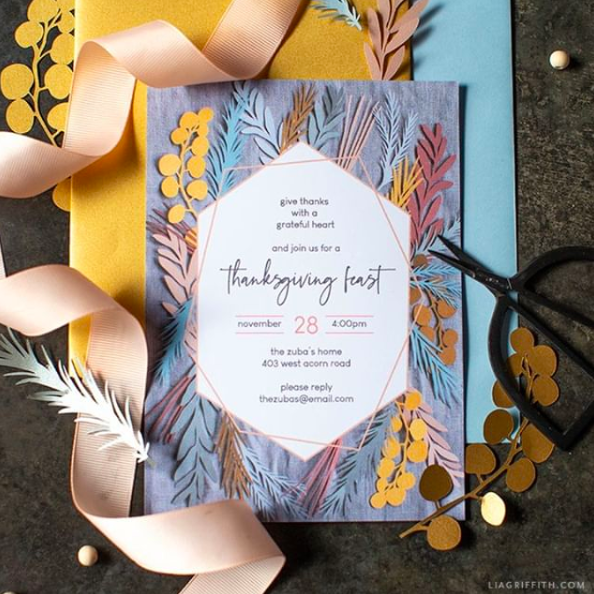 Set the Menu
There are traditional Thanksgiving dishes your loved ones must have in order for it to really feel like Thanksgiving. But as the host, you can also exercise some creative freedom.
Try incorporating unique recipe ideas to accompany what your guests already know and love. One of our favorite ways to get guests excited about trying new dishes is to have everything labeled. Reading the name of a new dish, written in festive lettering, will get them excited to try something new!
Here are some ideas to get you started:
Include Decorative Table Centerpieces and Mantel Decor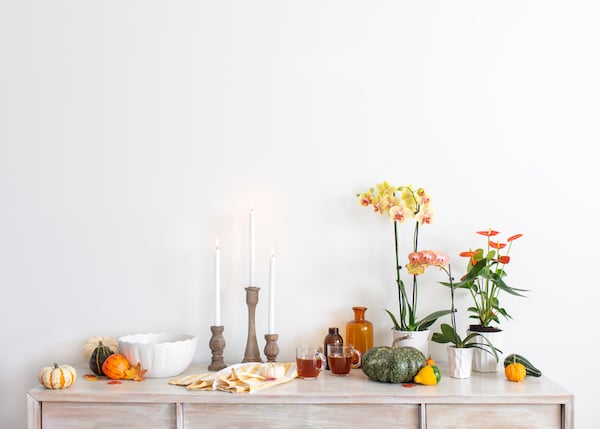 Even though the food should be the star of the show, implementing table centerpieces will make the warm and cozy atmosphere truly come together. Check out our orchid-inspired Thanksgiving centerpiece ideas and make them come to life!
You can even dress up your fireplace mantel to match the table decor, with a few added pieces. Here are some unique personal touches:
Hang leaf garlands. Remind everyone to be grateful with a sign that shares an inspiring mantra.
Add to what's already there— for instance, adding twine around candle jars and flower vases.
Here's a bonus pro-tip: Theme the whole house! Start with your front porch and work your way inside to have the entire home feeling Thanksgiving-ready!
Provide Gifts for Guests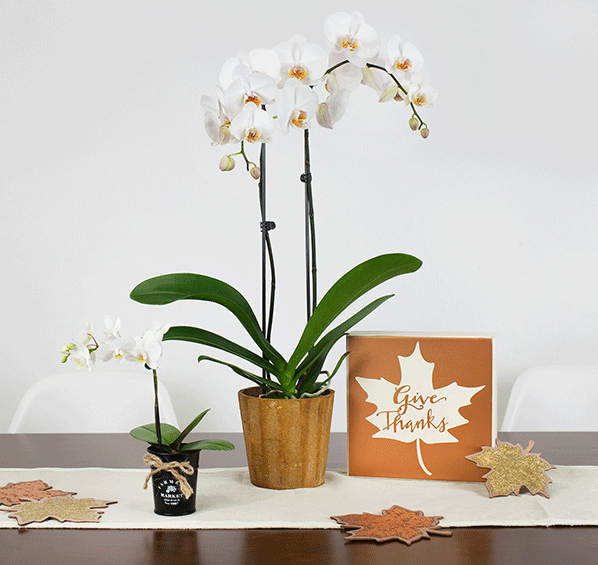 A great way to wrap up the perfect Thanksgiving dinner is by showing appreciation to your guests. Offer them simple gifts, like these, and they will want to keep coming back, year after year:
Treat bags with name tags, filled with delicious goodies
Scented candles that match the aroma of your home during the holidays
Mini orchids that will be long-lasting reminders of a well-spent holiday with loved ones!
Are you feeling inspired to prepare an amazing Thanksgiving dinner? We hope so! Remember to make your guests feel appreciated. Buy mini orchids for them!