Can you believe the end of the year is almost here? Before we get to the holiday season, let's enjoy the splendorous sights and smells of fall with some self-care activities.
It's important to carve a little time out of the day just for you to help maintain your mental health and physical health and well-being. Self-care isn't selfish and researchers say it can help prevent burnout, reduce stress and even stave off illness.
So as the weather turns, start a self-care routine and take a minute or five to enjoy some of these autumn self-care activities.
Fall self-care activities
Go hiking
Cooler temperatures and changing foliage make now a great time of year to take a hike. Use this map to find the peak time for foliage changes in your area.
Research shows physical activity is great for self-care because it stimulates chemicals in your brain that make you feel happier and relaxed. It can also help alleviate symptoms of depression or anxiety.
Jump in leaves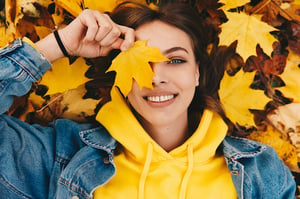 If you gotta rake the leaves, you might as well jump in them, too! Get your kids in on the fun and snap a few photos to remember the moment. Feeling like a kid again is sure to release some of those feel-good endorphins in your brain.
Pick apples and carve pumpkins
We love all the outdoor activities this season presents! Picking apples at an orchard and carving pumpkins gives you a few ways to flex your creativity muscles. After you pick them, try making an apple-based recipe you've never attempted — think apple butter, apple crumble, applesauce and more! Find more apple recipes here.
Take pumpkin carving to the next level by recreating characters or scenes from your favorite movie or TV show. It can be as easy or as complicated as you're comfortable with! Here are some carving ideas. If you'd rather skip the knives, try painting your pumpkin!
Switch up your wardrobe
It's time to rotate! Putting away your summer clothes and breaking out your favorite fall and winter sweaters is an instant mood booster. Organizing your closet — or really anything — sends a signal to your brain that your life is in order, making you less stressed about the work you have to do to get there. When you know where everything is, it's easier to find what you're looking for. Throw on that chunky sweater and hop in some leaves, girl!
Decorate your home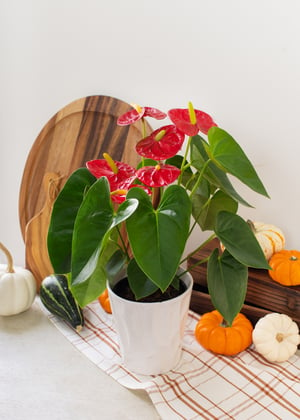 Who says indoor decorations are only for Christmas? Get festive this fall with decorations that do double duty! Imitation pumpkins, leaf garlands, blankets and art can take the place of the decorations you have up now and can stay up even after Halloween. Try adding a few plants to the mix, too. Anthuriums have that deep fall red you're looking for or buy a Watercolor Orchid in a spiderweb pot from our Halloween Collection. You deserve a plant as beautiful as you.
Fall self-care ideas are endless
There are so many ways to practice self-care in the fall, so treat yourself to one today! Start a care plan and stick to it! What are your favorite activities?