You're excited to take home your brand new Phalaenopsis orchid from Just Add Ice®, and you want to learn more about orchid care. So naturally, you turn to Google.
Then, after browsing the search results, you start to have doubts.
Is watering orchids with ice cubes really safe?
Is it just a marketing scheme to get me to buy more orchids?
We've heard it all before. And we've known for a long time that watering with ice cubes is not only safe, but the best way to ensure your orchid receives just the right amount of water. Now we have the research to prove it.
Researchers at The Ohio State University and The University of Georgia recently published a study on the impact of watering orchids with ice cubes. Here are three common myths their watering study dispels.
Myth #1: Watering Orchids With Ice Cubes Will Kill Them
The study compared watering orchids with ice to using a traditional watering method. Researchers monitored flower longevity, display life, leaf yield and root systems and found these results were the same in both sets of orchids.
In other words, watering with ice had no negative impact.
Myth #2: Watering Orchids With Ice Cubes Is Unnatural
Orchids are tropical plants that thrive in hot, humid climates. There are thousands of types of orchids found all over the world, including South America, Central America, Asia and Hawaii. Many of these orchids are found in the rainforest, where they cling to trees and capture the water that falls from their leaves. Watering orchids with ice cubes mimics the slow drip of water from leaves in tropical climates where orchids grow. So while you won't find ice where most orchids grow in nature, the slow melting of the ice cube watering method still makes sense.
Myth #3: Watering Orchids With Ice Cubes Is Just a Marketing Scheme
Some critics of the ice cube watering method have even suggested we're encouraging people to kill their orchid so they'll buy more.
The truth is, one of the most common threats to an orchid is overwatering. Knowing this, we developed the ice cube watering method to make it easier for customers to care for their orchids and keep them alive longer. The ice cube watering method ensures your orchid receives just the right amount of water — no more, no less.
In fact, our customers have told us they are able to keep their orchids alive for years, even reblooming them multiple times due to their success with ice watering. This has resulted in the number of people owning multiple orchids increasing almost 50% in the past four years, to an average of three orchids per person.
We understand not everyone needs or wants to water with ice. However, for a lot of people it is an easy and convenient way to maintain and enjoy a beautiful, air-purifying plant in their home - no matter their experience level.
Why Watering Orchids With Ice Cubes Works
This infographic sums up why we stand by the ice cube watering method.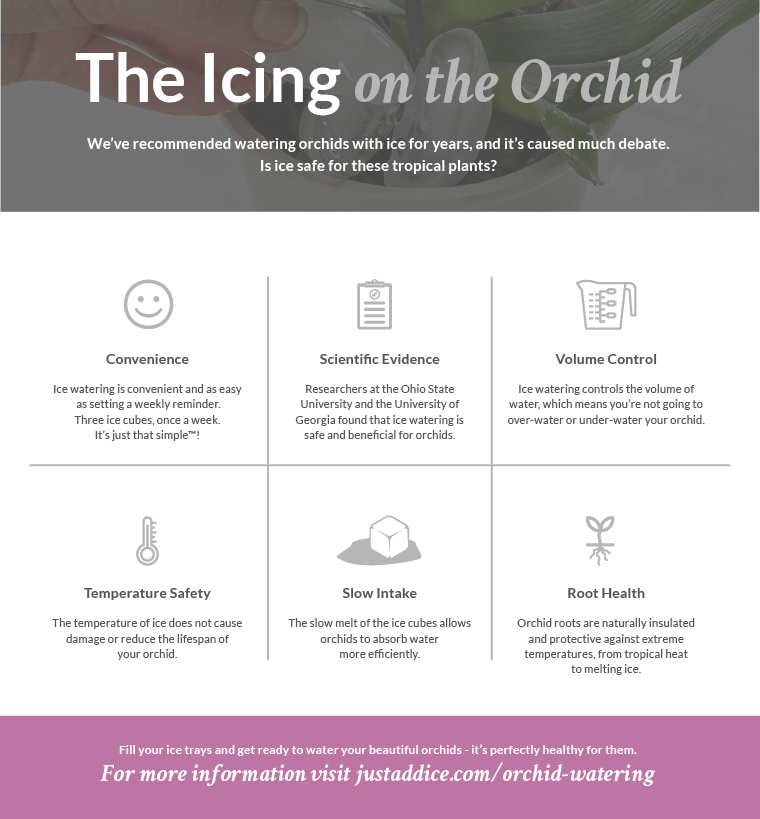 So, to sum it up, here are three reasons why we know watering your orchid with ice works:
1. The pre-measured amount of ice cubes helps prevent overwatering. Giving your orchid too much water is one of the quickest ways to kill it. Using ice cubes for your watering method takes the guesswork out of how much water to use, helping you give your orchid the exact amount it needs to flourish.
2. The "slow-drip" process helps the roots slowly soak up water. When the ice cubes melt, the moisture seeps into your orchid's media and allows the roots to slowly take in the water they need. This prevents water from collecting in the bottom of your orchid's pot.
3. Using the ice watering method is easy to remember. Adopting the routine of giving your orchid three ice cubes per week simplifies the watering process and makes it easier to remember. You'll know exactly what amount of water your orchid needs and when it needs it.
If you find that adding your three ice cubes a week isn't easy to remember, our orchid watering reminders have you covered. You can sign up to receive our free watering reminder desktop calendar or receive reminders by text.
No matter what you've read online, rest assured that your orchid will thrive with proper care. Our orchid care resources are based on research and more than 10 years of experience. And we all want to see your orchid thrive! To keep your new orchid healthy, sign up for watering reminders and keep coming back to our website for more orchid care tips.