Adding Just Add Ice Orchids to your home or work space will not only brighten your day because of their colorful blooms, it can improve your health and general state of being.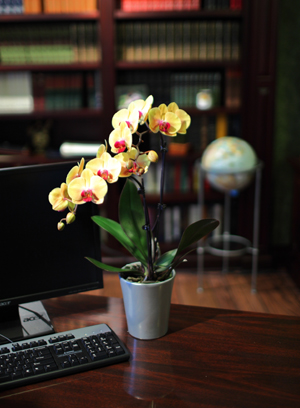 In a recent scientific study, researchers at Texas A&M University found that worker creativity and problem-solving skills improved measurably when plants and flowers were introduced into the workplace environment. Other ways orchids can help:
Improve Air
Indoor plants can help remove certain toxic agents from the air and help neutralize the effects of Sick Building Syndrome.
Relieve Stress
Many plants contribute to a feeling of well being, relieving stress and providing a sense of calm and optimism.
Eliminate Drowsiness
Excess carbon dioxide can elevate drowsiness levels. During photosynthesis, your orchid removes carbon dioxide from the air.
These are just some of the benefits in adding orchids to your home or work space. Just Add Ice Orchids are also a favorite choice of Feng Shui believers who use placement and color to balance the flow of energy, or "chi." Try incorporating sunny yellow orchids into the room to ensure happiness and health!
"I love having plants in my work place. They make me feel more relaxed and centered. They also can become a focal point of conversation. Many people have asked about my orchid and if it's easy to care for. Three ice cubes a week. How easy is that?" – Linda