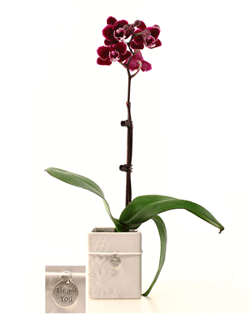 Orchids' association with love and beauty has made them a preferred choice of flowers for weddings. Their exotic beauty creates an inviting and glamorous atmosphere in both indoor and outdoor wedding venues. These blooms are commonly used in bridal bouquets, corsages, boutonnieres, centerpieces on reception tables, and wedding props. However, if you really want to leave a pleasant and lasting impression on your wedding guests, we suggest that you give them mini orchids as wedding favors.
Mini Orchids Make Ideal Wedding Favors
Mini Phalaenopsis orchids are usually no more than 12 inches tall, and they can fit into a small pot that can be easily carried in one hand. Unlike other common wedding favors such as chocolates, cookies, and bouquets, mini orchids can last for a long time, and they may remind your guests of your wedding day when they look at them. By giving these beautiful plants to your guests, you are not only giving them things that can add beauty to their homes; you are also introducing them to the interesting hobby of orchid growing. Those who end up picking up the hobby will definitely be grateful to you for giving them such wonderful gifts.
Add a "Thank You" Charm to Express Your Gratitude
To really show your appreciation to your wedding guests for being a part of the most important day of your life, you can place a "thank you" charm around the pots of the mini orchids. This can be easily done by hanging the charm on an elastic string and tying it around the pot. Make sure you tie the string tightly to prevent it from slipping off. It is better to use a square pot than a round pot, because it will help keep the string in place.
Check out other articles in our website for more ideas on how to use Phalaenopsis orchids in weddings.