Can you believe Easter is almost here? As you plan your family Easter dinner and the annual egg hunt, it's a good time to refresh your home decor for spring. If you need some inspiration, we've got you covered!
First, check out our new Spring Decor Guide for the latest color trends, plants and DIY decor ideas.
Also, check out these five easy "bonus" ideas for Easter!
Create An Easter Egg Countdown Calendar
Use plastic eggs in this spring's top Pantone colors to create a colorful Easter countdown calendar.
All you need is a package of plastic Easter eggs and number stickers from a craft store. Place the number stickers on the eggs and stuff them with jelly beans or other sweets for the kids. Each day, they can open an egg and be reminded that Easter is on its way! The best part is that this craft is quick and easy and adds a pop of color to your everyday decor. (Plus, it's practically mess-free.)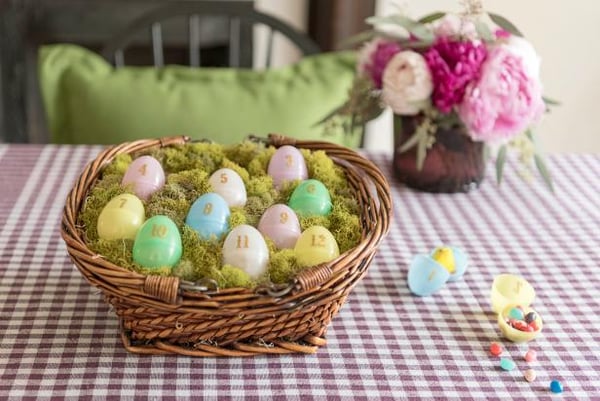 Photo by Sarah Busby; Styling by H. Camille Smith
Dress Up Your Mantel With Orchids
Your mantel is the focal point of your living room. Liven it up with small trinkets, like pastel eggs or silk birds. Add an orchid in a bright white pot to add some contrast and color to your mantel. Our Ocean Breeze Orchid is the perfect option and incorporates this year's Pantone color, Living Coral.
(When Easter's over, you can easily swap out your mantel decorations with seashells, coral and netting for a more summery vibe.)
Craft An Easter Wreath For Your Front Door
Use dark wicker and greenery from your local craft store to construct your Easter wreath. You can also add colored eggs for a hint of color. The great part about this Easter decoration? It's versatile! You can remove the eggs once Easter is over and replace them with seasonal ribbons or ornaments.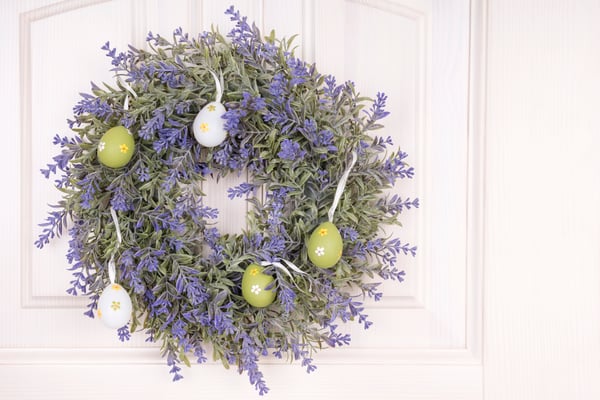 Spice Up Your Orchid Pots
Give your plain orchid pots a spring upgrade. You can use colored ribbon, patterned scrapbook paper, or even classy flower stickers to dress up your pots to match your spring decor.
Or, if you're feeling ambitious, try painting a glass vase with acrylic paint. Pour the paint into the bottom of the vase and tilt it in different directions, allowing the paint to swirl around the inside of the pot. This will create waves of color. Let the paint dry overnight.
For added detail, you can use an oil-based paint marker to draw tiny flowers or leaves on the outside of the vase.
Design Personalized Place Settings For Easter Dinner
Make your Easter dinner guests feel extra special with personalized place settings. Buy white or light colored wooden eggs and use paint or a metallic permanent marker to write the monogrammed initials of your guests. Next, place the eggs on the table according to your seating chart and add a colored cloth napkin under each egg to add some color to the place setting. Don't forget to add one of our orchids as a table centerpiece.
You can also try these DIY Easter centerpiece ideas. It's as simple as that!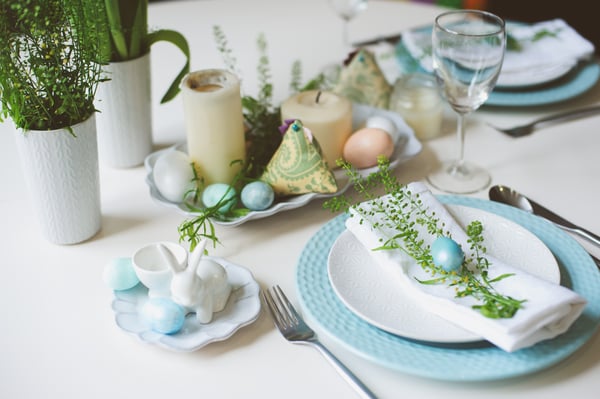 It doesn't take much to make your Easter extra special.
You can easily customize these spring decor ideas to fit your personal style. And you can find beautiful orchids in a wide variety of colors to match!