Orchids make the perfect centerpiece flower and Valentine's Day offers a great excuse to go all out for the language of love. Here are five orchid centerpiece ideas that can take the love that's in the air and put it in your home. (And since love never goes out of style, you can keep each of the orchid centerpiece arrangements below up through at least the rest of the winter.)
5 Easy DIY Orchid Centerpieces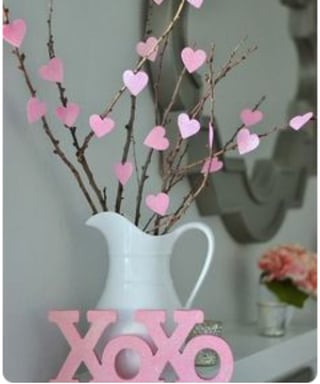 1.) Dress up Your Orchid Centerpiece with Heart Branches
(Source) Easy, whimsical and cute, this pitcher of construction paper pink hearts glued to thin twigs represents an easy way to dress up your potted plant. You can carefully add the heart branches to your orchid's pot, or fill small jars or vases with branches to complement the graceful beauty of your orchid.
You can also mix it up beyond the pink construction paper: add different colors, glue heart-shaped buttons instead or cut your hearts out of festive fabric or felt.
2.) Surround Your Orchid Centerpiece with a Doily Heart Garland
(Source) A lace heart doily is the perfect choice for a centerpiece that prioritizes romanticism over commercial Valentine décor. Pair with one large white Phalaenopsis orchid or several mini Phalaenopsis orchids, drape the garland on and around your plants, then add in some candles or twinkle lights for a little extra ambiance. Instant elegance!
3.) Utilize a Miniature Mailbox With Your Orchid Centerpiece for a Clever Display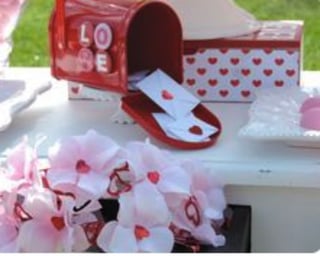 (Source) Everyone remembers the joy of getting a box full of valentines in elementary school, and you can recreate that joyful feeling with a miniature painted mailbox, some classic Valentine's Day cards, and a bright pink orchid that takes the display up a notch.
This centerpiece is especially clever if you're hosting a Valentine's Day dinner and place cards for each attendant in the mailbox.
Or, if you're looking for a way for your guests to deliver their cards to you, this option could be perfect on a gift table.
4.) Serve Up A Mini Orchid Centerpiece On This DIY Chalkboard Platter
Whether you're giving your sweetheart a mini orchid along with breakfast in bed or you just want a creative way to display one, this DIY chalkboard platter does the trick.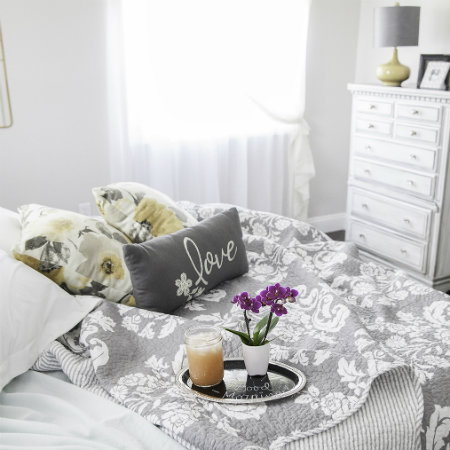 It takes just minutes to make (you'll spend more time waiting for the paint to dry than actually creating it). Once the paint is dry, you can write a thoughtful message on the platter.

5.) Make Your Own With These Valentine's Day Décor Essentials
Don't wait for outside inspiration to strike — just gather your supplies and get in touch with your creative side! With a little lace, some sweet smelling candles, pink and white orchids, and a dish of candy message hearts, you can create a show-stopping centerpiece that will transform any table into a festive display.
Want to expand your decorating beyond Valentine's Day? Download our winter décor guide for more inspiration.