Weddings instantly make people think of beautiful flowers. But flowers don't have to be synonymous with centerpieces! As you plan your ceremony and reception, think about different ways you can incorporate flowers into your decor. Outside of wedding bouquets and boutonnieres, anything from napkin rings to drinks can be adorned with a type of flower.
Here are five of our favorite ideas.
5 Ways to Decorate with Flowers for a Wedding
Think beyond traditional wedding flower arrangements to give your wedding a down-to-earth, natural vibe.
1. Create a signature drink
It's not uncommon for couples to create a signature drink for their reception — something that embodies their relationship with a cute name to boot. There are a variety of herbs that can be mixed into drinks, such as lavender, rosemary and mint. Or you could dress it up with edible varieties of fresh pansies, violets or roses. Find fresh flower cocktail ideas here.
Alternatively, you can also infuse water or sparkling water with fresh flowers and really wow your guests. Find recipes here.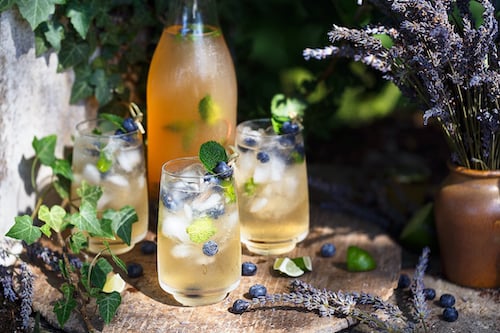 2. Craft archways or backdrops
Wedding arches are a popular way to decorate a traditional altar space. Decorate it with tight bunches of flowers like roses, or consider a waterfall effect with an elegant grouping of cascading orchids. Stick in a few twigs, pieces of eucalyptus or grasses, and you'll have a picture-perfect backdrop for your special day. You could even add a light piece of fabric or curtain for a whimsical look.
Keep the floral theme going by sprinkling petals up and down the aisle.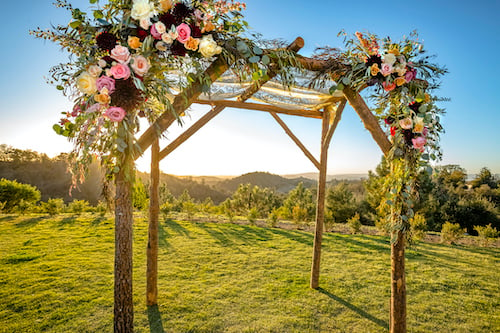 3. Dress up place settings
Rather than blowing your wedding budget on loads of floral centerpieces for your tables, consider using singular pieces of your bouquets and boutonnieres at place settings. For example, if your bouquet is made up of roses, consider putting small blooms on each plate. If you have grass elements in your boutonnieres, consider using grass as a natural napkin ring. Stick a piece of baby's breath in a little glass vase that also holds a table number. The possibilities are endless!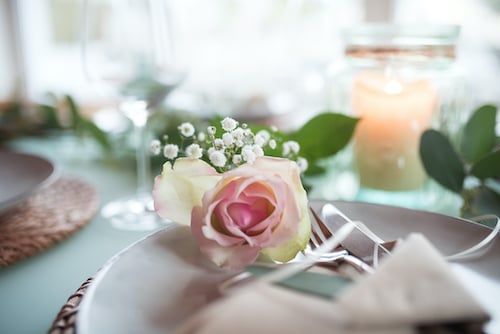 4. Make DIY flower crowns or hairpieces
Adorn your wedding party gals with elegant hairpieces or flower crowns. They can be as simple as a thin ring of baby's breath or as full-bodied as a mix of sunflowers, daisies or mums. If you'd rather go for more subtle floral decor, opt for a simple hair clip with a single orchid or smaller bloom attached.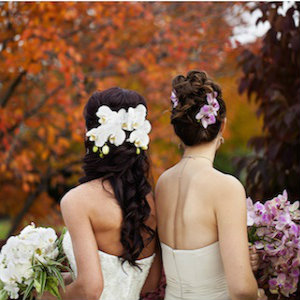 5. Add edible embellishments
There are several ways you can add edible embellishments to your entrees and dessert. Choose violet macarons as a wedding favor, arrange candied orchids on dessert plates or pieces of cake, or top your entree with basil leaves or crushed lavender blooms.
Click here for more edible flower inspiration.
Discreet Floral Arrangements
There are many ways to add beautiful blooms to your wedding venue and reception area without breaking the bank and without them having to be centerpieces. These are a few of our favorites. Tell us how you worked florals into your big day in the comments.
Need more inspiration? Check out our wedding guide!