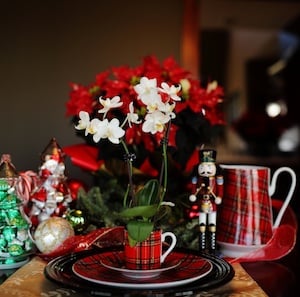 Thanksgiving is right around the corner and Christmas isn't too far off so let the holiday planning begin! We'd like to offer some help by sharing some fun and festive ideas for incorporating orchids into your holiday décor!
Here are a few simple ways to dress up your holiday décor with Phalaenopsis orchids:
Make a Thanksgiving centerpiece featuring an orchid.
Phals are certainly eye-catching and would make a perfect centerpiece for your guests to admire during their holiday meals. Thanksgiving dinners are notorious for lasting awhile, so it's only polite that you offer your guests something nice to look at. One of our favorite fall centerpiece ideas is to house a deep fuchsia or orange Phal inside of a giant hurricane glass and wrap it in a fall garland. This is perfect for the DIY-er. Not only do you get to showcase your stunning Autumn Phal, you get to do some arts & crafts along the way!
Get your orchid its very own decorative Christmas pot.
We love this one because it's pretty low-maintenance. If you're looking for an easy way to dress up your orchid for the holidays, simply go out and buy a Christmas ready pot. If you'd rather make your own, purchase a plain pot and spend an hour sprucing it up with some wrapping paper, ribbon, or even some sparkly red and silver glitter.
Introduce some berries into your orchid's decorative pot.
Adding a few berry stems to your orchid's pot is a quick way to fit your Phals into the holiday theme. We recommend using a snow white Phal along with some red berries to achieve that wintry feeling.
For more décor tips and projects that incorporate Phals, check out our décor page!