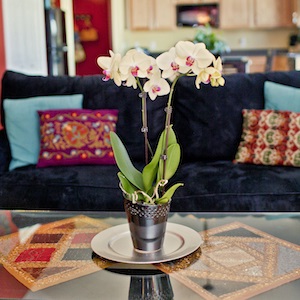 In the throes of winter, one flower was the clear favorite in cities particularly hard-hit by Mother Nature's wrath: the orchid. Capitalizing on the orchid's tropical beauty, botanical gardens in Chicago, Minneapolis and St. Louis (to name a few), created elaborate orchid showcases reminding attendees that, yes, warmer weather will come again.
Now that spring is in full bloom, we look back on one particular showcase: Orchid Mania at the Cleveland Botanical Garden. Orchid Mania proved to be our favorite of the bunch, not simply because Cleveland Botanical Garden is a short drive from us at Just Add Ice® Orchids, but because it featured an impressive interior design showcase.
In the interior design showcase, more than a dozen local designers created room vignettes inspired by or accented with orchids, many of which featured Just Add Ice® Phalaenopsis orchids. Here, we share several ways the experts decorated with orchids so you can feel inspired to bring the beauty of orchids into your home. You can see photos of the rooms discussed in the SlideShare presentation at the bottom of this blog.
1. Elaborate Vases
No matter your style, orchids and vases really are a beautiful pair. The perfect accent for tables, desks and bureaus, vases add a splash of style to complement any room. If you're looking for something similar to a vase but just a touch more unique, try a candelabrum or "candle tree."
2. Orchid Wall Décor
Phalaenopsis orchids are epiphytes, which is why you see orchids growing anchored to trees in tropical climates. Incorporating orchids into your wall décor is a stylish homage to the orchid's natural habitat. Bring life to your walls indoors by placing orchids on detailed sconce shelves, or create an outdoor oasis by hanging orchids from a decorative iron lattice.
3. Large Vases & Baskets
When it comes to orchid planters, you shouldn't be afraid to dream a little bigger. Large vases and baskets not only accommodate several orchids, they also leave plenty of room for other foliage. If you want the look of multiple orchids without the large planter, consider placing several orchids on a small table or bench in the corner of a well-lit room.
4. Orchid Backdrops
An orchid by itself is a stunning visual draw. But an entire wall of orchids? Few things are more eye-catching. If you have the space and are prepared to care for a plethora of plants, take a design queue from Carol M. Wellman Interiors' "Cabinet of Curiosities," and fill a large bookcase with beautiful orchid blooms. For an equally unique look with fewer plants, feature orchids in large picture frames and create an art gallery feel in your home.
5. Accessorized Orchids
Like a good outfit, sometimes all an orchid needs to really stand out are the right accessories. Doll your orchid up by offsetting it with accessories that fit the feel of your room. If your home has a classic, artistic feel, teapots, teacups and candles can help you achieve that romantic look. For more modern spaces, displaying your orchids behind brightly colored "windows" adds the right funky feel.
Want even more orchid interior decorating ideas? Subscribe to the Just Add Ice® Orchids blog today!