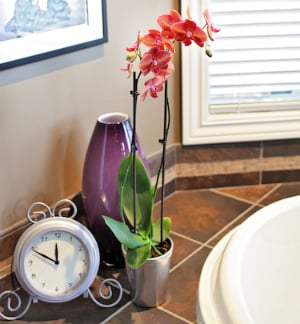 In many ways, orchids are very similar to vases. For one, orchids and vases are both available in many colors, shapes and sizes. Together, orchids and vases can add a real touch of style and personality to your home. We discuss five ideas for pairing the two for stunning accents to your décor below!
1. Style your Solarium:
A sunroom is the perfect place for your orchid. Placing your plant in the middle of the room ensures it will receive the right amount of indirect sunlight. You can also use your flowers and vase to highlight or contrast your color scheme. For example, if you have a dark patterned color scheme (like the one seen here), a colorful orchid and/or vase will add a nice pop.
2. Use for Contrasting Color:
Contrasting colors—like blue and orange or red and green—can be fun and pleasing to the eye when done correctly. You can use orchids and vases with a completely different color scheme than that of your room, like the example seen here. Notice how the color of the orchid and its vase really stand out from the earth tones of the room.
3. Use in Different Locations:
Incorporating orchids and vases into centerpieces isn't the only way to showcase their uniqueness. Both accents can compliment any space that needs a splash of style, no matter the size. This picture, for example, features flowers and a vase as the centerpiece, but the most dramatic use of color and positioning in the room is arguably the deep pink flowers in the alabaster vase on the wooden accent table.
4. Mix Up Your Textures:
Not only do vases come in a variety of colors, shapes and sizes, they also come in different textures. These pewter vases are embossed and add a stunning look and old world feel to the room's decor. Swapping the pale flowers in the photo with brightly colored orchids would really pop against the smoky metallic tones of the metal vase. (Remember to keep your orchid in its plastic grower pot before adding it to a decorative pot so as not to negatively impact orchid drainage.)
5. Draw Attention to Your Kitchen:
In your kitchen, the main attraction is often the food. With orchids and vases, however, you can bring the attention back to your décor. Take this minimalistic kitchen for example. Your eyes aren't drawn to the apples on the dining table but to the stunning white orchid in the patterned blue vases on the kitchen island. If you decide to bring orchids into your kitchen, remember to keep them far from ripening fruit, which emit ethylene gas.
The versatility of vases and orchids provide you with endless unique options to use for every room in your home. No matter your personality, you'll be sure to find the right combination to fit your sense of style!
Want more ideas for incorporating orchids into your home décor? Subscribe to our blog today!