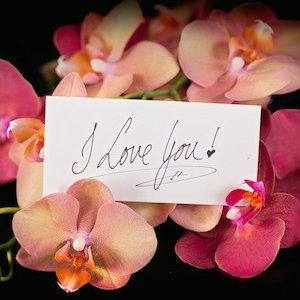 Your mom is a special woman. She's been there for you throughout your entire life. She read you bedtime stories, nursed you back to health when you were ill and mentored you through some of life's greatest milestones. She deserves a Mother's Day gift that shows her just how one-of-a-kind she truly is.
Giving your mom an orchid this Mother's Day is a perfect way to honor her as the thoughtful and caring matriarch that she is. Here, we discuss four reasons why you should give your mom an orchid this Mother's Day.
Beauty That's Easy to Care For
Your Mom has spent years taking care of you—wouldn't it be nice to give her a gift that's beautiful, yet low maintenance? To care for a Just Add Ice® Orchid, all mom must do is water the plant with three ice cubes once a week. It's really that easy! Even better, should mom ever have any concerns about how to best care for her new orchid, she can turn to any of our helpful orchid care resources.
The Gift that Keeps on Blooming
Unlike cut flowers that only last a week or two at most, an orchid's blooms will last well past the month of May. In fact, Just Add Ice® Orchid blooms can last two to three months or longer, depending on care and other factors. Once an orchid's blooms have fallen, the plant still isn't perished. Rather, it has entered a resting phase that typically lasts for nine to twelve months. Proper care during this resting phase will help ensure the orchid blooms again!
A Hue as Distinct as Your Mom
The variety of color choices is one of the main reasons why orchid enthusiasts gush about these exotic flowers. Orchids come in soft, neutral colors like white, but they're also available in bold, bright colors and crazy patterns. It doesn't matter if your mom is quiet and classic or if she's more the spunky, firecracker type, you'll find an orchid that suits her personality to a T.
Personalize the Gift and Relive Your Childhood
Remember how mom swooned when you presented her with handmade cards, macaroni necklaces, "I Love You, Mom" mugs and other mementos? When you purchase an orchid for your Mom this year, you can put your childhood crafting skills to good use by personalizing the orchid pot. Or, you can take it one step further by designing your own gift basket filled with personalized orchid care products!
This Mother's Day, show your mom how much you care with an exotic and hardy gift that will remind her of this special day all year.
Want more ideas on decorating orchid pots to give to mom? Check out our vast collection of orchid projects and decor resources!