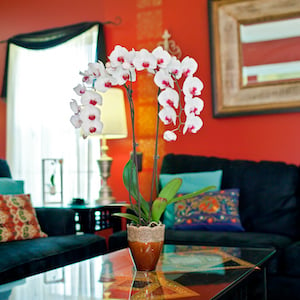 Just Add Ice® Orchids: They catch your eye every time you walk into your local supermarket or home improvement store. You see they are beautiful and you've heard they're easy to care for, but you have yet to bring any orchids into your home.
Well, there's more to these plants than their breathtaking beauty. Today we highlight three reasons why you should keep orchids in your home.
1. Showcase Your Design Style
Orchids are highly versatile. A variety of colors means there is an orchid to fit your home décor no matter if your style is classic or contemporary. What's more, Just Add Ice® orchids come in two sizes: 5" and mini. Showcase a 5" orchid on your living room coffee table and a mini orchid in your daughter's bedroom. Or pair orchids of different sizes and hues together for a truly unique look.
2. Give your Health a Boost
Orchids can boost much more than your décor. Research shows flowers are a serious mood enhancer, too. In one 10-month study, researchers found the presence of flowers triggers happy emotions, heightens feelings of life satisfaction and affects social behavior in a positive manner. "Flowers bring about positive emotional feelings in those who enter a room," said Jeanette Haviland-Jones, Ph.D., and lead researcher on the study. "They make the space more welcoming and create a sharing atmosphere."
3. Enjoy a Long-Lasting Bloom
One of the great joys of receiving flowers is the initial burst of excitement you feel. Unfortunately, that exuberance is short-lived because most cut flowers don't last longer than a week. This is where orchids really shine. Unlike other flowers, when you bring an orchid into your home, you can expect your plant's blooms to last for two to three months. With proper care, your orchid can bloom again.
There are numerous reasons why you should keep orchids in your home; the three we've discussed barely skim the surface. So the next time you see orchids in the store, don't ask why you should purchase, ask why not?
To best care for your new orchid after purchase, check out "10 Simple Steps to Keeping Your Orchid Healthy."