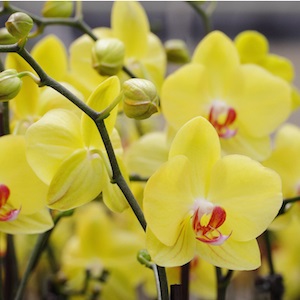 April is a special month for us at Just Add Ice® Orchids and orchid enthusiasts alike. Why? It's National Orchid Month! We're helping you celebrate by highlighting five fun ways to celebrate this festive month.
1. Throw an Orchid-Themed Garden Party
Just in case you need an excuse to have a party, now you can celebrate National Orchid Month and spring at once! Invite four or five of your closest friends to your home and get ready to have a blast with an orchid-themed garden party. Dress up the back of your chairs using orchid blooms and create simple and stunning centerpieces using these ideas. As a takeaway, give your friends their own mini Just Add Ice® orchid!
2. Bake and Decorate Delectable Orchid Treats
You already know that orchids are beautiful plants, but did you know they also make for a delicious dessert? We're not speaking of real orchids (although some are edible!), but confections made to look like orchids. For a how-to guide on creating sugar orchids, click here.
3. Make your own Orchid Vase
Making your own vases for your orchids is a fun craft you can enjoy with your family and friends. By making your own vases, you're sure to have the perfect décor item no matter the season or occasion. When considering what type of vase to create, remember to consider the size of your orchid's grower pot. Keeping your orchid in a clear plastic grower pot allows roots to be easily inspected without disturbing the plant. Repotting orchids without their grower pots can negatively impact drainage and, therefore, root health.
4. Share the Joy of Orchids
One of the best ways to celebrate National Orchid Month is to share the joy of orchids by giving them as gifts to parents, siblings, grandparents or friends. If you really want to brighten someone's day, volunteer at a hospital or senior care center, leaving the individual you visit an orchid as a lasting memory of the day.
5. Enjoy a Cup of Tea
As we discussed above, certain orchids are edible. In fact, you may have already consumed products made with edible orchids! We're talking about vanilla. The vanilla bean comes from the Vanilla planifolia, a vanilla orchid species native to Mexico. You can also enjoy orchid tea made from wild, edible orchids. Enjoy a cup while curled up on your couch alone or serve it to guests at your garden party!
We'd love to hear all of the creative ways you're celebrating orchids this April. Take a moment and share your story with us on our Facebook page.