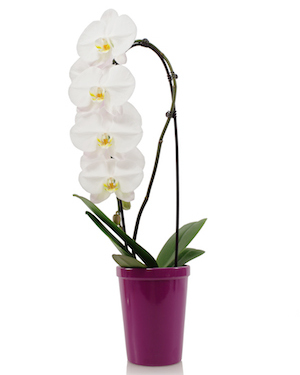 Could orchid gifts be perfect for last-minute shopping? Imagine tomorrow is your sister's birthday. To celebrate, your entire family is gathering for a picnic at her home. You've known about the picnic for weeks, but for reasons beyond your control, you have not had the opportunity to purchase a gift (You've barely had time to decide what dish you'll contribute!).
You head to your local grocery store thinking, "I'll just pick her up a card and something small." But the further you walk down the gift aisle, the more dismayed you become with your choices. Just as you're about to give up and head to her house empty-handed, you spot the beautiful blooms of Just Add Ice® orchids.
No matter the occasion, we've all found ourselves desperately trying to find a suitable gift at the last minute. Just Add Ice® orchids are ideal last-minute gift candidates because they are conveniently located in grocery stores and garden centers. But there are more reasons why you should choose orchids as a gift:
Orchids Are Easy to Care for (Even for the Green-Thumb Challenged)
Many varieties of plants make excellent gifts; however, not all plants are easy to care for. If you're buying a gift for a person who is notoriously bad at keeping plants alive, always choose orchids. Orchids are hardy flowers that can help even the most green-thumb challenged person look like a pro.
Just Add Ice® orchids require just three ice cubes for watering per week, and our email watering reminders make remembering when to water a cinch! Plus, following a few basic care tips regarding light, temperature and more can prolong orchid blooms and the overall health of an orchid..
Orchids Are Long-Lasting
A bouquet of cut flowers can make a lovely gift. However, cut flowers often perish a mere week after purchase. Just Add Ice® orchids, on the other hand, will bloom for months after purchase. But the best part is, once an orchid finishes blooming, it does not die—it enters a resting period. With proper care, orchid owners can help their orchids bloom again and again!
Orchids Are Conversation Pieces
If you've seen orchids in a friend or loved one's home, you know just how eye-catching they can be. Not only do orchids beautifully accentuate any interior style, they have the power to spark conversation regarding orchid care, the benefits of plants in the home and office and more. Ask any orchid owner about his or her orchid, and you'll soon find yourself in an engaging conversation.
Orchids Are Personal
When you give a last-minute gift, the recipient can usually tell you didn't give it much thought. But when you give an orchid—even if it's at the last minute—all the recipients will see is how much you care. From respect and admiration to love and affection, orchids symbolize a number of personal emotions. If you don't purchase your orchid too last-minute, you can make your gift even more special by personalizing its pot or making your own orchid planter.
From holidays to housewarming parties, orchid gifts are perfect. And while you shouldn't procrastinate on picking up gifts for loved ones, know that Just Add Ice® orchids will always be there to get you out of your gift-buying bind. Find a store near you that sells Just Add Ice® orchids using our Store Finder tool.