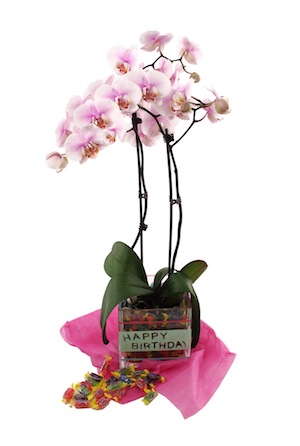 Orchids make the perfect gift for numerous occasions. Their colorful blooms compliment any event and personality and they're easy-to-care for, even for a plant novice. They brighten up any space, and when properly cared for, thrive in any home or office setting. Here are four occasions that you can give the gift of an orchid.
Mother's Day Gift
Surprise your Mom with an elegant, exotic orchid. Unlike many Mother's Day baskets that wilt and die within a few days, an orchid's beauty can last for multiple seasons, and each bloom will remind her just how special she truly is. When it comes to honoring the Mothers' in your family, purple and deep pink orchids are especially significant because they represent elegance, respect, royalty and admiration.
Expectant Moms
Do you know a mother-to-be expecting a little pink bundle of joy? If you do, pink orchids are the perfect gift for her--pink, in particular, signifies affection. Orchids have long been associated with fertility during ancient times. The Chinese once associated orchids with fertility and believed the flowers encouraged couples to have more than one child.
Get Well Gifts
A Phalaenopsis is an effortless way to brighten someone's hospital stay. Let's face it, hospitals are not ideal hangout spots for anyone, but you can help take someone's mind off of this fact with a cheery orchid plant.
Birthday Gift
No matter what season, an orchid makes for a thoughtful gift that can fit an array of personalities. Have a friend with a spring birthday and an appreciation for classic elegance? Yellow orchids are the perfect choice. What about someone with a more modern, funky sense of style? This yellow and pink striped mini orchid is the perfect mix of chic and style.
No matter the season, reason or occasion, orchids make a perfect gift to share with your loved ones throughout the year. Make your orchid even more special by personalizing your gift. Learn 5 ways to personalize your orchids with our free guide!