Sending plants as sympathy gifts is a great way to show you care. Phalaenopsis orchids are a distinctive choice for a sympathy gift, and even for a funeral service. Their inclusion in a service won't set off anyone's allergies, and they add a touch of elegance. Orchids will bloom in memoriam long after the passing of a loved one, serving as a sweet reminder of a loved one for years to come.
Ideas for orchid plants as sympathy gifts
As you choose your sympathy gift plant, keep in mind that the flower you choose says something about your relationship with that person. No matter what color you choose, orchids symbolize your eternal love for a person.
When sending orchid plants as sympathy gifts, popular colors include white, pink and purple. Here are a few ideas for using plants as sympathy gifts.
Consider orchid planters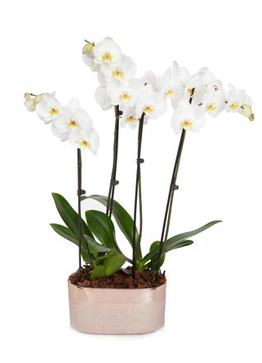 Orchid planters feature two premium or two mini orchids in one pot. You have your choice of flower and pot color to personalize your gift. Giving someone special a white orchid sends a message of thoughtfulness, while purple symbolizes admiration, dignity and respect.
Send premium orchids
Premium orchids add elegance to a service or floral display. Families often choose to take displays with orchids home because they last longer than traditional bouquets. Choose a flower color and pot that best matches their taste and have it delivered in time for the service or as a memento for afterward to let them know they're on your mind.
Send bulk mini orchids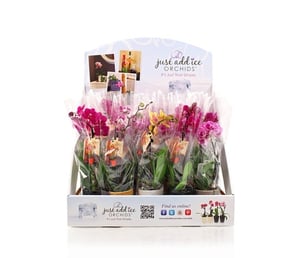 When you buy mini orchids in bulk, you can buy enough for each member of the family. Choose elegant white or multi-color orchids in a 12- or 24-pack and give each person a keepsake to remind them of their loved one for months to come.
Anthuriums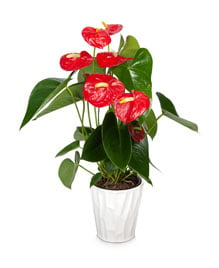 If you'd rather skip the flowers, consider sending an anthurium. They are known for their long-lasting blooms and the heart-shaped leaves are said to represent hospitality and love. Anthuriums are easy to care for, making them the perfect sympathy gift for someone who is grieving.
A timeless classic
Orchids are known to last much longer than flowers in a vase, which makes them the perfect choice for a sympathy gift. Someone experiencing a loss already has enough on their mind. Give them a low-maintenance plant they can treasure when they have a minute to breathe.