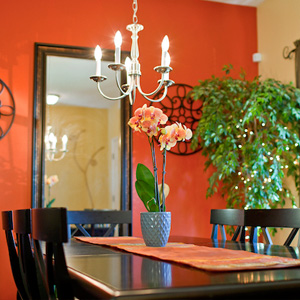 Your dining table is more than a place to eat—it's a focal point of the room. Orchids can readily transform your table into a conversation piece for you and your guests. In fact, today's post will inspire you to use your dining room table to grab the spotlight for four different occasions.
Luncheons
Going out to eat is wonderful, but hosting a luncheon at your home is an intimate way to show your guests how much you care. And with spring in the air, what better way to kick off the season than with an indoor luncheon? Placing your orchids in individual vases or mason jars allows the natural beauty of the flower to shine and adds a touch of fun.
Holidays
Nothing gets the conversation going during a holiday gathering like a floral centerpiece. This Memorial Day or Fourth of July, for example, you can proudly display your patriotism and sense of individual style with an "exploding" color contrast of white orchids against a red kitchen pitcher or by dressing up your potted orchids with American flags or metallic blue and red star garland.
Birthday Parties
At birthday parties, your orchids can do double duty as dining room décor and gifts. You can give away mini or full-sized orchids as party favors and let each guest make their own personalized pots as a craft. You can also make the orchid the theme of the party itself. A garden party can be just as beautiful as it is creative, as you can see here. You can easily replace the cherry blossoms in the vase for pastel colored orchids, as well as adding mini and full-sized orchids to multiple vases of different sizes and colors to the table. For dessert, serve your guests orchid cupcakes and cake pops for a sinfully, sweet way to pay homage to your favorite flower.
Everyday
Who says you can only dress up your dining room table during parties or holidays? The everyday occasion of 'just because' is the perfect excuse to pretty up your table with a terrarium. Terrariums are not just decorations; they contain a story within each piece. The arrangement of your mini orchids and the accessories that you choose to accentuate each flower is a conversation all its own. You can also encourage your guests to create their own mini orchid terrarium at home with this step-by-step, easy-to-use guide.
No matter your event, don't forget to thank all of your guests for attending. Give them an eternal reminder of the day and be environmentally conscious at the same time by recycling your orchids into thank you cards. Green Bridge Guide is a company that embeds your flowers into cotton fibers for a unique keepsake that your guests can treasure forever.
This spring and summer, combine orchids and your dining room table to create a different narrative for every occasion!
Do you need more inspiration to add some flair to your dining room? Watch this video on creating your own Decorative Planter using two or more orchids.