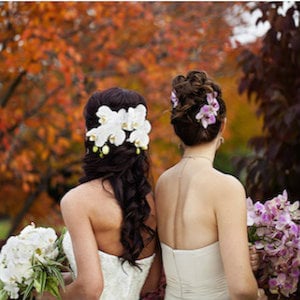 The champagne cork bursts from the bottle, and the guests cheer for delight. But this is no ordinary celebration. This day is one of the most important days of your life: your wedding day.
Your wedding calls for a flower that is as special as the person you're marrying. The one flower that lives up to this reputation is the orchid. No matter what season you tie the knot in, the orchid's beauty is sure to captivate your guests' attention and forever etch the day onto everyone's memory.
Here are four reasons why you should include orchids in your wedding:
1. Party Favors you can Personalize
Wedding favors are always a treat for guests. Unfortunately, many favors don't last past the car ride home. This is where mini orchids come in! Mini Phals are every bit as dynamic as their full-sized counterparts, with one major advantage: Because they only need watered with one ice cube per week, they're extra easy to care for.
Your wedding favors will be a living reminder of your special day, and they will introduce your guests to the wonderful world of orchids. Personalize your pots with a special "Thank You" message to really show your appreciation.
2. Makes a Gorgeous Bouquet
The orchid is an unusual flower, and its exotic beauty is one of the many reasons it's celebrated. Its elegance makes it the ideal flower for a bouquet. Orchids make a stunning flower bouquet on their own, but for a truly unique look, you can mix in other flowers, such as roses or tulips.
3. Makes Beautiful Head Wreaths for the Bridal Party
Many modern brides are abandoning the traditional veil in favor of a modern look: head wreaths. Wreaths add a unique, laid-back touch to a wedding's formal attire. The best part? These hair accessories aren't just for the bride! Every woman in the bridal party can wear one, even the flower girls.
4. Colors that Match any Décor
Different seasons call for different color schemes, and depending on the flower you use, this can be a fabulous or frustrating experience. Orchids come in just about every color and variety imaginable, so finding just the right shade to incorporate into your wedding is a breeze. Whether you need yellow and orange shades for a fall wedding or soft pastels for spring, orchids are your go-to flowers for versatility.
Your wedding day is one of the most memorable days of your life, and you want to keep this day alive in the minds of your guests for years to come. Orchids are the perfect flowers to commemorate your special event.
Do you want more memorable and inspirational ways to incorporate orchids into your wedding décor? Download "Incorporating the Elegance of Orchids into Your Wedding" today!